Integrity Quality Tradition Superiority
Custom Manufacturing's
CM-230P, CM-235P Portable Compactors are designed to collect any excess liquid, to service hotels, restaurants, hospitals, shopping malls, or any place that may have liquid garbage in their waste. Our portable compactors are manufactured with a unitized body construction where the compactor head is welded to the receiver containers, both of which are welded to a common platform base, which is designed to hold liquid. In addition it is easier to minimize and control odors and insects that may emanate from the compacted waste. For dumping, disconnect the power unit and remove the container, thus allowing the entire portable compactor to be hauled and then dumped. This allows the waste area to remain clean and sanitary. Each compactor can be customized with a variety of loading arrangements suited to fit your hauling needs.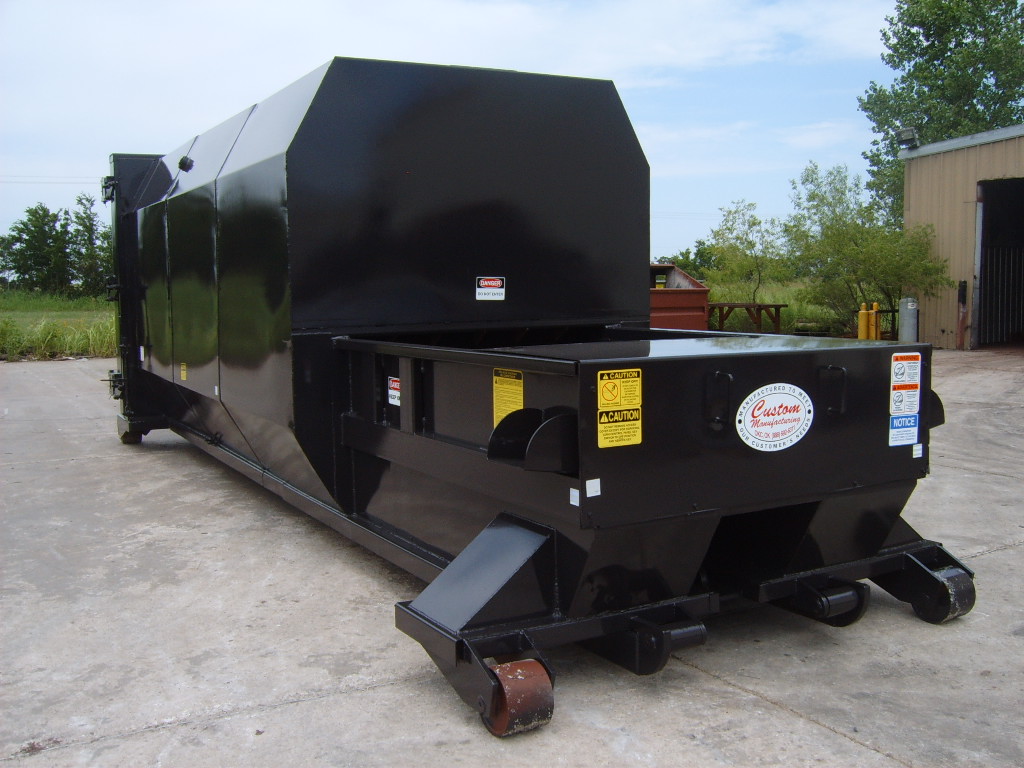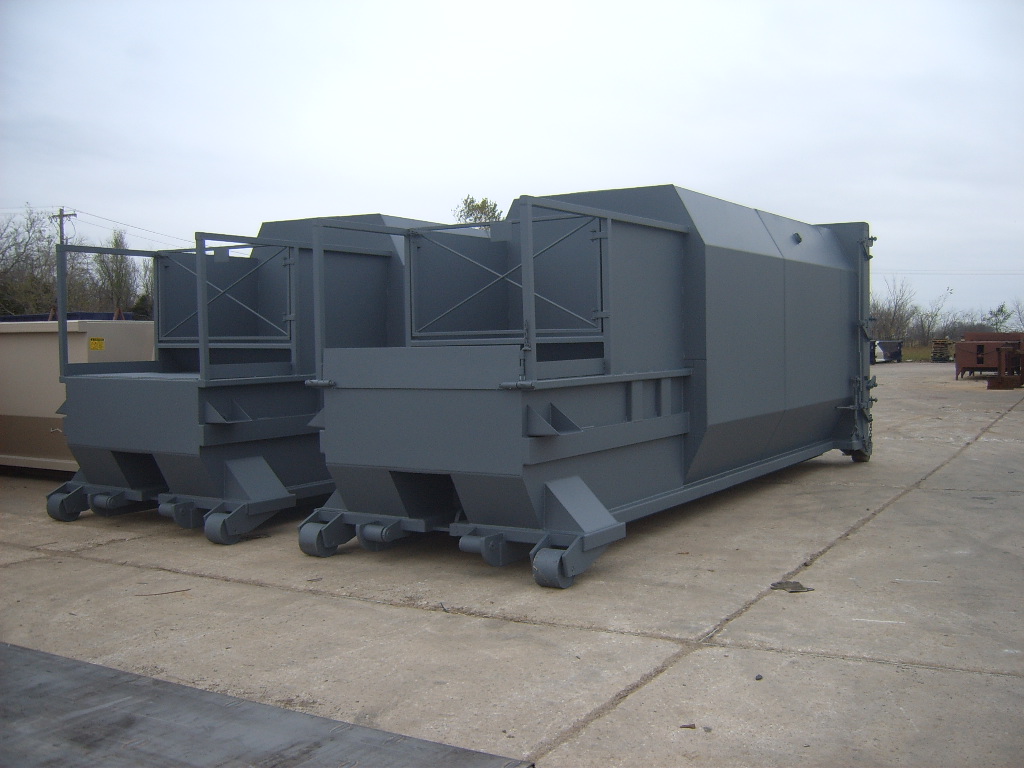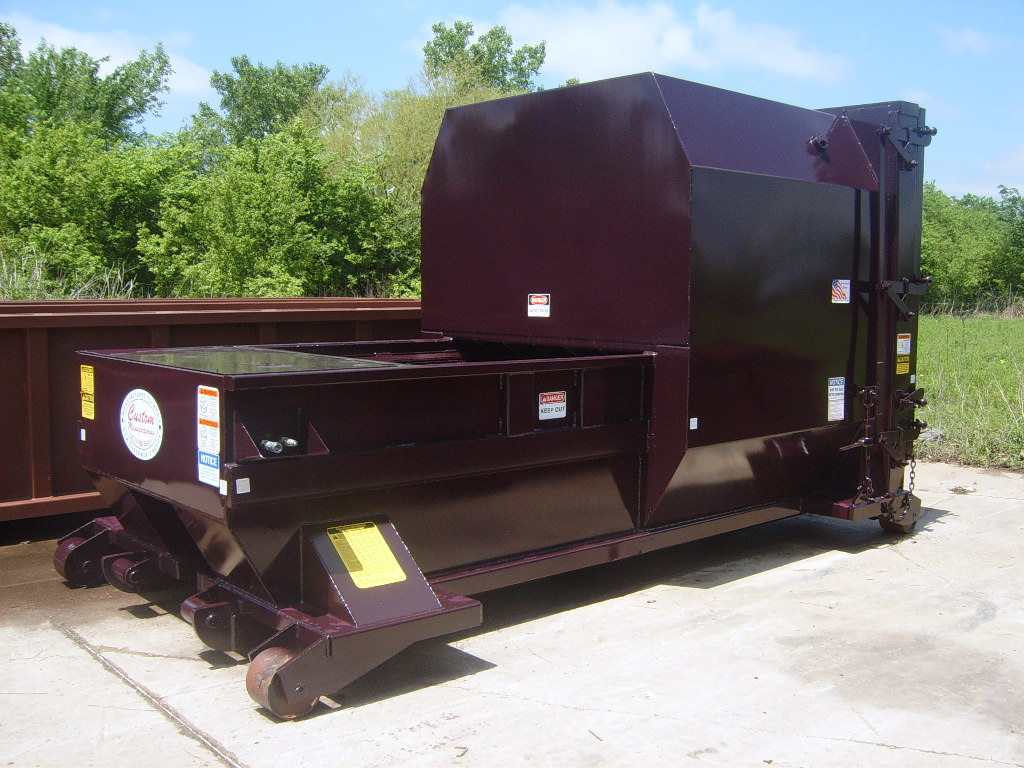 Safely stores waste in a liquid tight container providing the benefits of odor and insect control.
Prevents contamination of work areas.
Every unit is factory tested for water tightness.
Compact waste on-site, reducing storage and reduces hauling cost.
(2) Container Inspections/Fire hose port on each unit
Versatility--same parts, portable and stationary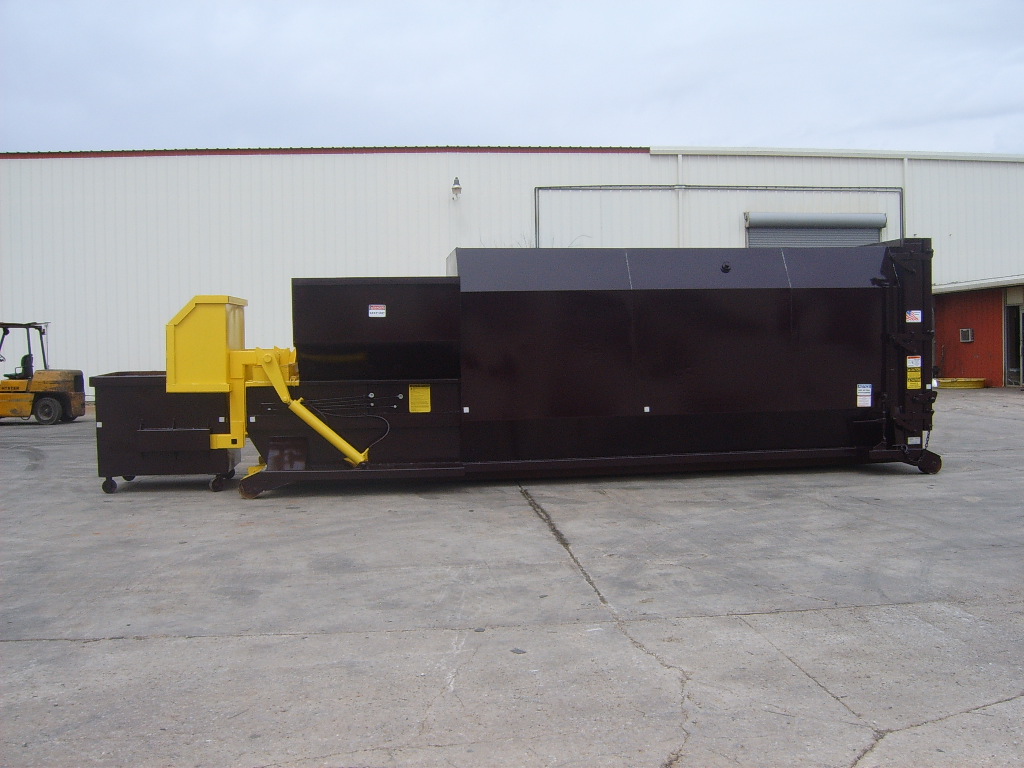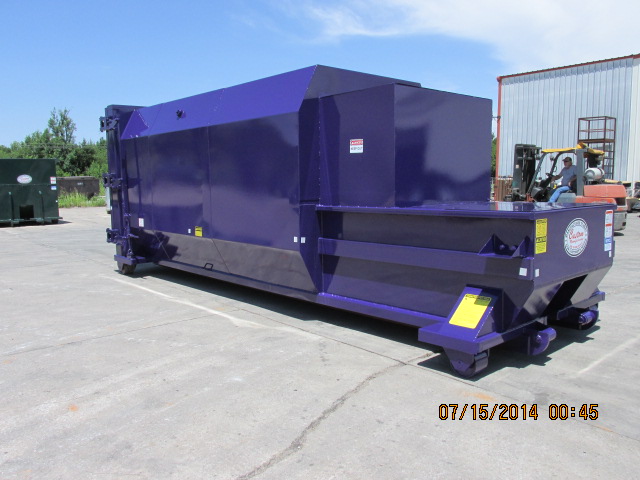 Ratchet locking system and grease fittings on all moving parts (hinges, latch, nose/ground rollers)
Plumbed to both sides for customer convenience and flexibility, durable construction
Oil spill pan is positioned under the hydraulic quick disconnects to maintain a clean, safe work area
Coal Tar Epoxy on interior floor of container preventing rust and corrosion
Available in rectangular style
Customized design available, including space saving narrow or short container construction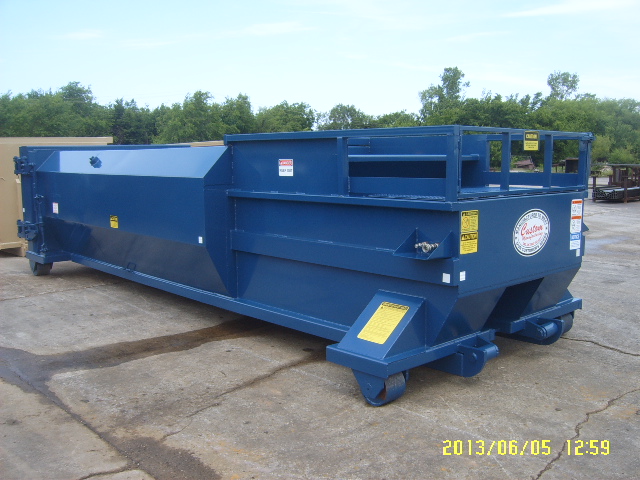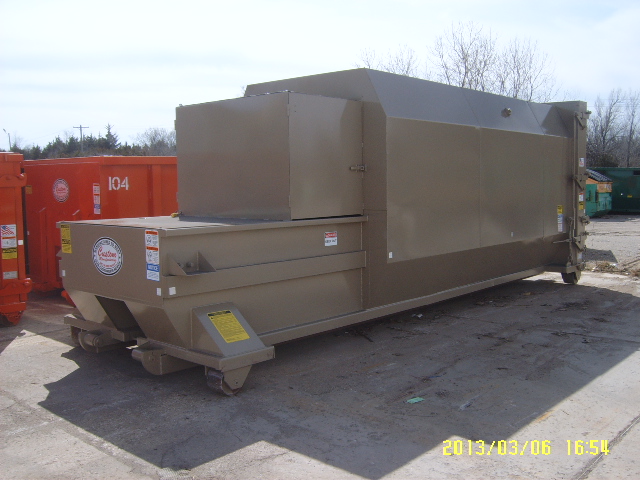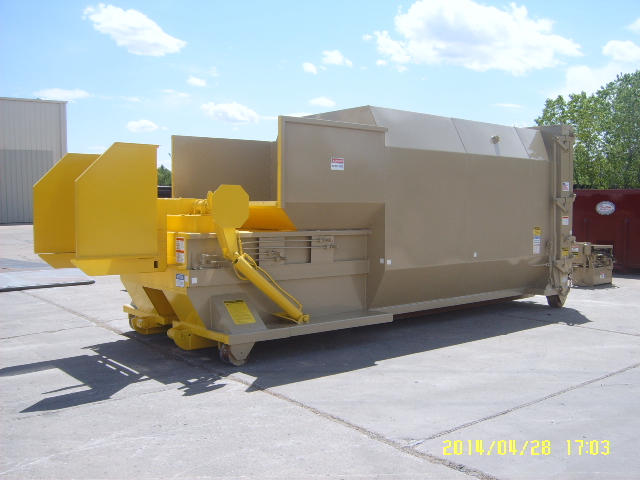 STANDARD FEATURES:
** Frame
Floor 1/2"
Side Plates 1/4"
Breaker Bar 6" X 4" X 3/8" and tube with 1/2" set breaker bar teeth
** Ram
Face Plate 1/2"
Floor Plate 1/2"
Side Plate 1/4"
Top Plate 1/4"
10" Remote
4 Wheels with Grease Fittings
Self Cleaning Compactor Sump
(sub floor) to prevent debris build up on ram
Gasket used in rear door providing superior resistance to oils and chemicals
Roller Finger (3/4" Plate Roller Finger)
Removable Access Panels
Weather-hood / Safety Panels
Full seal with adjustable hinges

PLC controlled used programmable number of strokes and stop position
Reservoir: 20 Gallon Capacity
Oil-Suitable for wide temperature range
Pump: 10 GPM-9 HP Motor
Fixed Displacement
UL Listed Electrical Components
3/4 Full Light
100% Full Light
Double End Pick-Up
Hydraulics plumbed to both sides of container
ANSI Safety Decals included on all equipment free of charge
Rams are lubricated with water resistant mystic hydraulic grease.....
CONTAINER SPECIFICATIONS:
10 Ga Walls (3/16" Optional)
10 Ga Roof
3/16" Floor
6 X 2 X 1/4" Main Rails
30 Yd Octagon Length 272"
35 Yd Octagon Length 288"
(2) 4" X 44" Cylinder with 2 1/2" Rod
Compactor Capacity (Cubic Yards) 2
Cycle Time (Seconds) 40
Cubic Yard Capacity 20-35
Capacity Per Hour (Cubic Yards) 144
Clear Top Opening (Inches) L 36" X W 56"
Ram Penetration (Inches) 9"
Ram Face Dimensions (Inches) 59 3/4" X 28"
Packing Force (Pounds) (Normal 40,265) (Maximum 50,059)

This equipment conforms to all current ANSI Z 245.2 safety standards. IN order to provide the most currently engineered and designed equipment, we reserve the right to change specifications without prior notice. This information is intended to provide information only and should not be used in an arbitrary manner to judge equipment for any particular purpose. Performance may vary with application. Products must be installed and operated according to required standards, codes, regulations, and safety procedures. Only the standard written warranty issued by Custom Manufacturing Inc, applies.